Mr. Kher, have you lost your mind?

A majority of Indians are indeed tolerant and respectful of fellow Indians; it is the men and women you are supporting that are intolerant.


How dare you say that, nobody has a right to call our country intolerant Mr. Kher?
Tell that to Kulburgi's family

Tell that to Akhalaq's family

Tell that to Kulkarani's family

Tell that to the family of dead woman who was raped

Tell that to Dalit Children who were burned

Tell that to Yogi Adityanath

Tell that to Sadhvi

Tell that to thousands others..
I thought you were an intelligent man, where is your
intelligence
?
Are you telling me these things should continue and we should not speak? We need Indians who care about fellow Indians and not ruthless, careless brutes like you, who want to hide things under the carpet. The intolerance that is growing, if not checked, will enflame India, do you have brains to understand that? We are protesting to cut down on these incidents... and expect Modi to speak up, but if he is like you, God save India.
We want India to be a safe place for every Indian, yes, every Indian, including you, Modi, Hindus, Dalits, Muslims, Sikhs, Christians, Jains, Buddhists, Baha'is, Jews and every Indian with no exception.

Would you join us in the protests to restore tolerance in India? Or would you rather deny the Indian people the right to protest?
Mike Ghouse
http://MikeGhouseforIndia.blogspot.com
www.TheGhouseDiary.com

# # #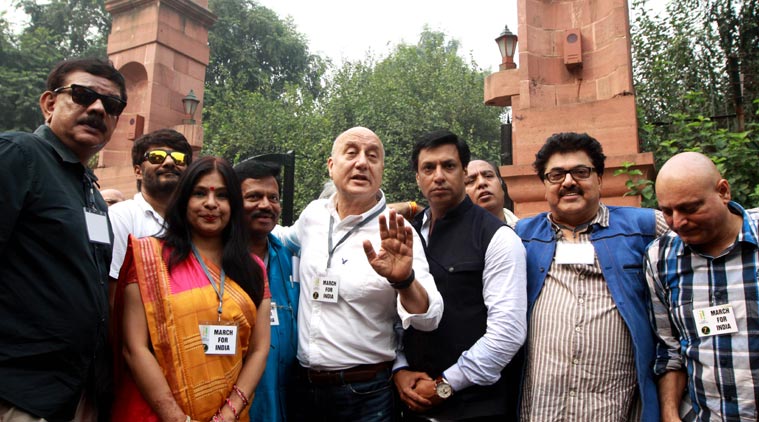 Film star Anupam Kher with Madhur Bhandker and others after meet Rastrapati Pranab mukherjee at RP Bhawan in new Delhi on Saturday. (Source: Express photo by Prem Nath Pandey)
#MarchforIndia rally: Nobody has the right to call our country intolerant, says Anupam Kher
The 'March for India' will start from the National Museum, Janpath in New Delhi will lead to Rashtrapati Bhawan.




http://indianexpress.com/article/india/india-news-india/anupam-kher-madhur-bhandarkar-lead-marchforindia-rally-against-intolerance-voices/

Countering the protests by writers and artistes against "rising intolerance", Bollywood actor Anupam Kher on Saturday led a march to Rashtrapati Bhavan alleging that the "award-wapsi" campaign was to defame the country by projecting a "wrong" picture of the situation.

"India is a very tolerant country. Some people have coined the term 'growing intolerance'. They are very few. Not every Indian thinks like that. We are secular people. We do not believe in pseudo-secularism, selective outrage or selective patriotism," Kher, who is the spouse of BJP MP from Chandigarh Kirron Kher, told reporters.
"We had a meeting with a lot of writers, artistes, filmmakers and they also believe that there is no intolerance in the country… This march is a symbolic gesture on part of a lot of people over here who say India is one and free of intolerance," the 60-year-old said.
Many filmmakers and artistes from the fraternity including Madhur Bhandarkar, Ashoke Pandit, Priyadarshan, Manoj Joshi, Abhijeet Bhattacharya and writer Madhu Kishwar joined the march to hand over a memorandum signed by more than 40 personalities including actress Raveena Tandon.
Bhandarkar, a National Award winner, alleged that those involved in the protest over intolerance had opposed Prime Minister Narendra Modi before he was elected, which raised questions about their intention.
"The projection that is happening for the past few days is very sad. The people who were against Modiji during elections are the same people who are coming out right now."
"The whole projection and narrative that is going abroad is wrong. It is a diverse country and of course there are incidents but we all condemn them. There is no two ways about it," he said.
Kher asserted that they were not associated with any organisation or political party. "This march is led by Indians and for Indians."
Film-maker Priyadarshan said the act of returning the awards is "childish".
"People returning awards are doing a childish act. They should use the power of pen. Instances of intolerance have always been there. It is not something that happened yesterday. Shah Rukh Khan never said he is returning award," Priyadarshan told PTI.
"They are respected people but behaving like school children," Priyadarshan said.
He, however, disapproved of those critical of Khan who had said that there was extreme intolerance in the country. At least 75 members of the intelligentsia have returned national or literary awards in an escalation of protests by writers, historians, filmmakers and scientists over "growing intolerance", voicing fears that the country's robust democracy might be "coming apart" in the current atmosphere.
The BJP-led government has dismissed the protest as "manufactured rebellion" and "politically" motivated.