Dalits of India | MikeGhouseforIndia.blogspot.com

I just read the following piece about the caste system in India and am saddened about it.

68 Years have gone by, 3 generations have elapsed and it is embarrassing to see the untouchability and mistreatment of Dalits in India.
May be it is time, that we the Indian Americans take this up, and ask the US immigration to allocate 50% of immigration to the Dalits, they need uplifting badly, our society has not matured yet to accept each others as equals. Anyone wants to join me? I want those who are particularly prejudiced against Dalits, as a repentance or praischit.

US immigration should give first priority to the downtrodden students who have aspirations to be the best, if Indians are prejudiced, let them not have the best minds like Rohit Vemula, and let us have them here in the US with us.

Every one of us Indian American ought to be ashamed. We get all the privileges and demand them, and thanks to the laws of the nations, we get them. By the way, it is not a Modi problem, it has been there for centuries and it is time to speak out against it. Modi can certainly take the lead; I have not given up on him, even though he has remained silent when evil things have happened in our country giving them no discouragement.
My father was a Mayor of the town of Yelahanka, and he had the balls to go against the customs of the town. He allowed Dalits inside our home, and my mother made tea and served them in the same cups that we used, and my mother gave them food in the same plates we did. This was not acceptable to any one at that time. My father heard a lot of bullshit from the town's people; he did not give a shit about such non-sense and stood out to do what was right. Leadership is bringing people to do the right thing, and not chickening out and doing what appeases the crowd, which is not leadership. Deep down people like him, they wanted to be good people, but customs had chained them in their tracks. He was one of the most liked persons in the town, and the entire town called him Mamu (Maternal Uncle) and came to him to resolve their conflicts.
In the early 60's, our town got the water tower for the first time, and water lines were laid out and public taps were set in corners of a few streets. We had to carry a bucket or tumbler to the street corners to collect water from the public tap. I feel sad, even now as I think about it, the way the Dalits were treated there. There were two lines - one for all of us and the other for the Dalits, and they did not get their turn until all are exhausted on the other line. You should have seen their faces, when the others washed the faucet several times before they collected the water, as if Dalits have contaminated the tap. It was humiliating, and I have fought for their right to take the turn in the line.... I have been blessed, no on fought back with me, isn't this is what it takes to stop bullying? Just speak up.

I hope, at least when you visit India, you speak up and change the world around you. If you do, you deserve to feel good about yourselves.
God bless the Dalits and the down trodden people around the world.

Mike Ghouse
# # #
Why are India's Dalit students taking their lives? Courtesy of BBC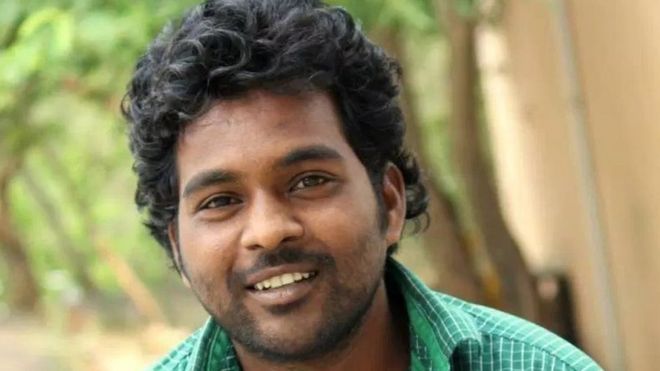 "My birth is my fatal accident... I always was rushing. Desperate to start a life... I am not sad. I am just empty. Unconcerned about myself. That's pathetic. And that's why I am doing this."
These are excerpts from the last letter - "this kind of letter for the first time" - that Rohith Vemula, a PhD student at Hyderabad Central University wrote before he killed himself on Sunday.
'Steadily isolated'
Mr Vemula, 26, was one of five Dalit - formerly known as untouchable - students who were protesting against their expulsion from the university's housing facility. India's 180 million Dalits are among its most wretched citizens, because of an unforgiving and cruel caste hierarchy that condemns them to the bottom of the heap.
Mr Vemula and the four other students faced allegations last August that they attacked a member of the Akhil Bharatiya Vidyarthi Parishad (ABVP) - the student wing of the governing Hindu nationalist BJP - on the campus. Some reports say an investigation had found no "conclusive evidence" of the assault.
The university stopped paying his monthly stipend of 25,000 rupees ($369; £258) allegedly because he raised issues under the campus's Dalit-led students union.
It also began an investigation into his - and his friends - conduct. In August federal minister Bandaru Dattatreya, a BJP junior minister, wrote a letter to the federal education ministry complaining that the university had become a "den of casteist, extremist and anti-national politics".
In September, Mr Vemula and four other students were suspended - although the minister denies this was linked to his missive, which he says was not about the Dalit students, but a general comment on the restive campus.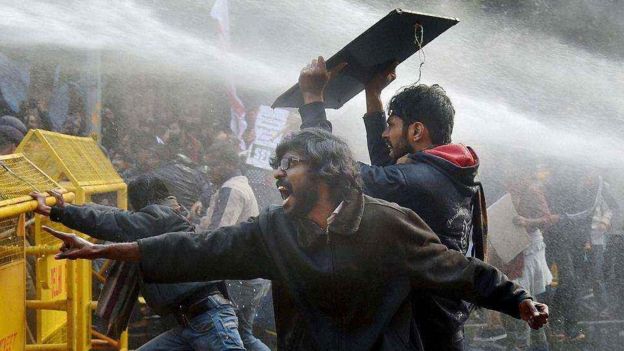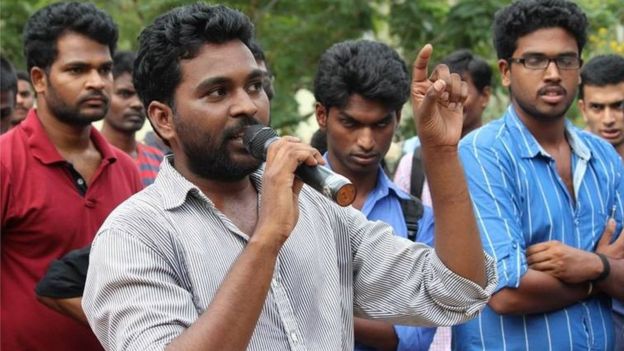 Mr Vemula's death has sparked off a firestorm of protest across India.
Poet and writer Meena Kandasamy says the student's suicide was "not just an individual exit strategy, it is a shaming of society that has failed him or her". She wrote "education has now become a disciplining enterprise working against Dalit students: they are constantly under threat of rustication, expulsion, defamation, discontinuation".
Mr Vemula's is not an exceptional story of caste discrimination on India's campuses. One report said eight Dalit students had taken their lives "unable to cope" with caste politics at Hyderabad University in the past decade. Between 2007 and 2011 alone, 18 Dalit students ended their lives in some of India's premier educational institutes, according to another estimate.
Shocking abuse
Some eight years ago, Apoorvanand, who teaches at Delhi University, had gone to Delhi's All India Institute of Medical Sciences, India's leading medical school, to investigate a case of discrimination against a Dalit student.
He says he found vile abuses written on the doors and walls of hostel rooms where Dalit students lived. (There was no name calling, because direct abuse would lead to prosecution under tough anti-discrimination laws.) When he went to the director of the institute to lodge a complaint, the latter flatly denied that there was caste discrimination on the campus.
This is a school which produces India's best doctors. This is also the school where a federal investigation into complaints of caste-based harassment and discrimination against Dalit and tribal students uncovered a shocking picture of abuse.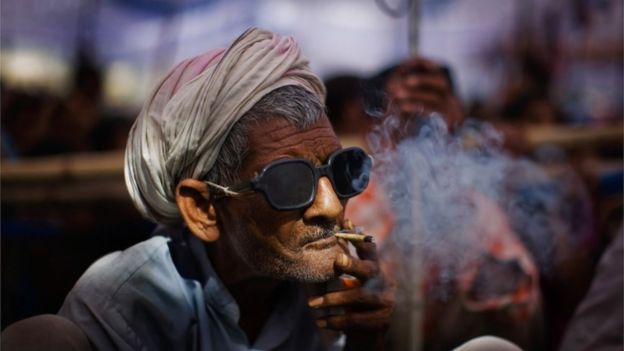 The probe found most of the Dalit and tribal students complaining that they "did not receive the kind of support other students received from their teachers". Examiners asked about their caste backgrounds. The students said teachers did not give them the marks they deserved in exams, and their papers were not evaluated properly. More than 90% of the students said they were routinely humiliated by examiners in practical and oral examinations.
"There is systemic persecution of Dalit students in Indian universities. They are often failed by their teachers deliberately," Apoorvanand told me.
Many Dalit students who get into colleges and universities through affirmative action quotas - restorative justice for centuries of historical wrongs against the community - come to campuses with deficiencies in education, including a feeble command over the English language. Most of them are first generation graduates, come from poor families - like Mr Vemula, born of a father who works as a security guard and a mother who's a tailor - and often struggle to fit in.
Fierce competition
India's colleges and universities are theatres of fierce competition and confrontation: only a privileged few manage to get a limited number of seats through fiercely contested exams.
Upper caste students, say many, have a "natural hatred and antagonism" for the Dalits and tribespeople who take up seats reserved for their communities. "There is a lot of anger against affirmative action and their beneficiaries, but then there is little the upper castes can do about it because the quotas are constitutionally mandated," says Apoorvanand.
So the students are shamed and mocked at as "quota students", and their abilities mocked. In absence of effective student support groups or university structures, warning meltdown signals among suffering students are ignored.
Politicians are accused of not confronting this appalling discrimination with the zeal it deserves.
Instead, Dalit and tribals have also become pawns in India's hideous vote bank politics. In modern-day India, the segregation of Dalits begins early: they are separated by markers and coloured wrist bands in classrooms; and forced to clean school toilets. Upper caste school children routinely boycott school lunchescooked by Dalit cooks.
Mr Vemula is just the latest victim of India's scourge of untouchability.