Akhand Bharat and RSS | Mike Ghouse for India

The idea of Akhand Bharat can be understood in cultural terms, indeed, the entire subcontinent is culturally bonded. However, it means different to the Hindutva ideologues than they explain. The conflict props up in intense conversations, and this article is a fine example of such duality.

I distinctly remember the sigh of relief when Vajpayee visited Minar e Pakistan, much was written about it, to the Pakistanis it was an acknowledgement of the sovereign nation of Pakistan and a good sign of relief from the frightening idea of Akhand Bharat; which meant ambitious taking over of Pakistan and Hinduizing it. That was the time, the concept should have been clarified, that it was not, but the hidden agenda prevented the RSS from expressing it.

The present inclusive sounding rhetoric from the RSS should always be welcomed. However the rhetoric remains empty if it is not matched by actions - like condemning the idea of coercive Ghar Wapsi. Instead they can set up missions and lure people with money, jobs, clothes, dignity and equality, can they offer that? It also means believing and practicing equal rights in housing, education, employment etc, is RSS willing to do that?

Hindu majority believes and practices Pluralism, as is the case with Muslim, Christian or other majorities, they respect the otherness of others, and have no problem with what others eat, drink, wear or believe, but do the RSS ideologues believe in that genuine Hindu ethos of Pluralism?
By the way, RSS members or that mindset in not pervasive, they are a large organization, but their ideals of divisiveness are not bought by the entire community of Hindus. Indeed, its ideology is anathema to the Hindu majority or any majority anywhere in the world, and the Sangh Parivar is matched by the family of Islamists (Taliban, ISIS, LeT, Shabab, Boko Haram and their likes). Of course the Parivar guys are not as violent as the blood thirsty Islamist guys, which is a blessing and for India and the Indians.

Until RSS becomes inclusive and their talks and acts starts welding together, and the ideals of live and let live becomes the norm, the idea of Akhand Bharat is as bad as the Islamist idea of Islamic nation. Neither will ever happen, as the ideas are not inclusive.

Indeed the overwhelming majority of Hindus, Muslims, Christians and others are fine people, and we need to work on getting more people stay in the moderate circles for a stable India.
Mike Ghouse
http://MikeGhouseforIndia.blogspot.com
www.TheGhousediary.com
A self-goal by the RSS
The Akhand Bharat controversy exposes the Sangh's ideological dogmas and difficulties. Written by Sudheendra Kulkarni
Published:Jan 6, 2016, 1:01 - Courtesy of Indian Express - http://indianexpress.com/article/opinion/columns/a-self-goal-by-the-rss/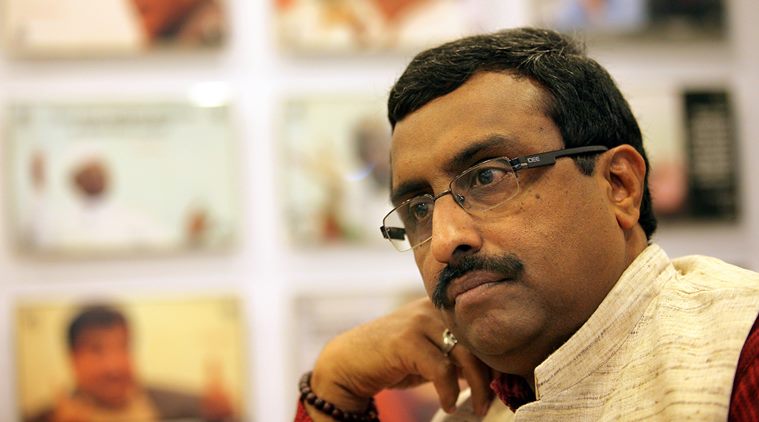 Ram Madhav, BJP National General Secretary. (Express photo by Ravi Kanojia)
Two things are taboo in the RSS and the BJP. The RSS never admits there's anything flawed or outdated in its ideology. The BJP, which has allowed itself to be ideologically captured and organisationally controlled by the RSS, never publicly challenges the parent organisation's core beliefs. However, reality does not respect any organisation's imagined infallibility. Those who have tried to dictate the world to follow their own dogma have fallen by the wayside. History accommodates, even applauds, those who change with the times. But changing with the times demands honest self-criticism in the public realm. This spirit is in short supply in the RSS and BJP.
The RSS has always claimed that "Hindu Rashtra" and "Akhand Bharat" (the two are inter-related) are its core beliefs, which will not change even if the organisation changes some of its external features. However, at the very first brush with the recently changed reality in the India-Pakistan engagement, following Prime Minister Narendra Modi's bold visit to Lahore, one of its ideological pillars, Akhand Bharat, has developed embarrassingly huge cracks. These cracks are vainly sought to be covered up with weak explanations and confounding clarifications.
Look how hurriedly the BJP, through its spokesman M.J. Akbar, officially distanced itself from the "Akhand Bharat" remarks of its own national general secretary, Ram Madhav, made in the course of his interview with Al Jazeera. Akbar is capable of penning an entire book to demolish the RSS's view of "Akhand Bharat". However, he didn't even vaguely criticise it. Madhav, a well-known RSS pracharak himself, has tried to wriggle out of the self-created controversy by writing a clarificatory article in this newspaper ('A people's idea', December 29).
Madhav's self-defence is ineffective. Take, for example, his claim: "Let me reiterate that the Akhand Bharat doctrine is a cultural and people-centric idea. I was not even remotely suggesting that we should redraw the boundaries of our countries." Now, watch his interview. He was indeed suggesting a redrawing of the boundaries of India, Pakistan and Bangladesh. He asked his interviewer, Mehdi Hasan, "If two Germanys can come together, if two Vietnams can come together, what makes you think that India and Pakistan cannot come together?" Madhav surely knows West and East Germany, as also South and North Vietnam, redrew their boundaries when they reunified. Their reunification was a political process, in which the two divided parts lost their sovereignty and separate identities when they became "Akhand Germany" and "Akhand Vietnam". By using this analogy, Madhav was clearly hinting that Akhand Bharat, in the RSS's conception, means the political reunion of India, Pakistan and Bangladesh.
This is what the RSS has always stated: That the Partition of India in 1947 was wrong and unacceptable, and that this wrong would somehow be corrected in future. Madhav candidly describes this as "the generational vision of the RSS". He even shows his hurt feelings by indirectly questioning his critics within the RSS why his remarks on Akhand Bharat "became an issue" now, when the same thing was "stated and restated several times before by several people in the Parivar".
To his credit, Madhav made many good points in the interview by giving a more inclusive and tolerant interpretation to the policies and actions of the Modi government. He's also right in stating that the coming together of India, Pakistan and Bangladesh would not be "through armies or aggression, but through popular goodwill". Indeed, all should welcome "a people's reunion at the cultural and societal level" in our subcontinent, which has suffered immensely on account of the artificial walls of separation erected by our governments.
But will Madhav admit that his praiseworthy statement strikes a blow at the other foundational pillar of RSS ideology — Hindu rashtra? Both before and after Partition, the RSS insisted that Bharat, "Akhand" or "Khandit", is a Hindu nation. Madhav and other RSS-BJP leaders should explain how they can ever create goodwill among the Muslims of Pakistan and Bangladesh — not to speak of the Muslims, Christians, Sikhs and Buddhists in India — by propagating that today's Bharat is, and tomorrow's Akhand Bharat (even in a confederal form, without redrawing boundaries) will be, a Hindu rashtra.
When confronted with this argument, RSS leaders predictably claim its critics don't understand the real meaning of the word "Hindu", and that it's a cultural, and not a religious, concept. They are free to delude themselves. But this, too, is unacceptable to non-Hindus and also to a majority of Hindus. Besides, to equate Indian culture with Hindu culture is to disrespect Article 51 A of the Constitution, which requires us to "value and preserve our composite culture".
Here's the supreme paradox: Most RSS-BJP supporters themselves understand "Hindu" only in its religious connotation. Many of them reject the call for Akhand Bharat by saying, often in bigoted ways, that the coming together of India, Pakistan and Bangladesh would reduce the proportion of the Hindu population and increase that of Muslims.
If the RSS genuinely desired the com-ing together of the peoples of India, Pakistan and Bangladesh, it had better discard both the Akhand Bharat and Hindu rashtra shibboleths.
The writer was an aide to former Prime Minister Atal Bihari Vajpaye.
Dr. Mike Ghouse is a community consultant, social scientist, thinker, writer, news maker and a speaker on
Pluralism
,
Interfaith
,
Islam
,
politics
, Terrorism,
human rights
, India, Israel-Palestine, foreign policy and building
cohesive societies
. Mike offers pluralistic solutions on issues of the day. More about him in 63 links at www.MikeGhouse.net and his writings are at TheGhousediary.com or Just Google Mike Ghouse with the name of any Religion.
=